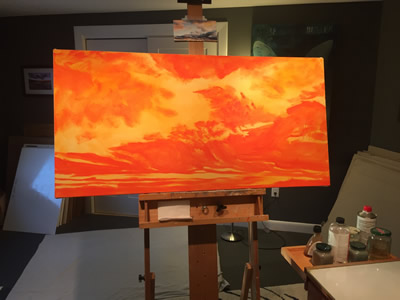 (Featured Painting: Painting in the Gallery during my show "Vibrant Vistas". 30×40″ Oils on Canvas. May 2019)
I like to work from photos I have taken and lots of time people send me images of clouds that they have shot and given me permission to use. The composition has to show "sweep" to get my creative juices flowing. Some kind of movement, some kind of tension, a visual conversation of sorts.
I used to have a hard rule to NEVER show anyone a work-in-progress. Didn't want anyone to pre-judge a piece. Now with social media, it's been a joy to share as some of the steps can be startling, such as the warm colors I use for the first undercoating layer. I "fight" for the cool colors layered on top allowing some of the orange to peak through.
Sometimes I'll sketch little studies with pencil while someone else drives. This is quick work as the car speeds along. Again, the movement, "drawing the viewer" into the composition. Here I am showing proportions for 30 x 40″ paintings.
Canvas board can provide a good substrate for quick sketches in oils. Above are works from my painting-a-day online show called "The Shifting Light" November, 2018.
The see a painting "evolve" click here: http://daryldjohnsonartist.com/watch-painting-evolve/