Daryl D. Johnson Artist Profile
Described by Art New England magazine as "gestural realist landscapes with the overall effect of speeding through layers of lighted space," Daryl D. Johnson's oil paintings are a colorful tribute to the back roads and vistas from which she gets inspiration while motorcycling, birding, kayaking & hiking.
"Absolutely mesmerizing." — Weirs Times, New Hampshire

"I enjoyed hanging your artwork." — Andrew J. Rogers, Executive Director, New Orleans Academy of Fine Arts
Download > Daryl D Johnson Resume (PDF)
Download > Daryl D Johnson Portfolio (PDF)

"Nature has a certain flexibility.
There's a balance between serenity and energy.
I'm just one human being watching this incredible
phenomenon trying to tell that story on canvas."
— Daryl D. Johnson
Artist Statement
Transient clouds reflect nature's energy and our moods as captured in my oil paintings. The views are familiar, but the subtext is the underlying chi, the sweeping momentum of energy. The earth "breathes" in and out in compositions of arched horizons. Skies resonate with waves of clouds producing rhythms of color. These oils on canvas celebrate the vibrations of the planet.
Practicing Ai Chi (Tai Chi in a pool) induces a state of mindfulness. I enjoy kayaking, gardening and motorcycling during which I form visions for compositions.
Bio
Born in Manhattan, Daryl's parents moved with her two older sisters to the suburbs when she was two. Armonk, NY provided lots of opportunities to play in wild forests, ice skate on large lakes, visit NYC Museums often, and to attend the annual summer outdoor Art Show. She loved annual Girl Scout camp in upstate New York. Her High School art teacher, Gerry Rinaldi, prompted all his students to observe, stretch and practice art. She starred in many musicals, singing and dancing under the direction of Gene Bissell. She was the first girl to take Mechanical Drawing in her high school, having to plead with the guidance counselor for permission to do so. She likes to tell the story of her first day in class when Mr. Ruthizer took out a drawing implement: "This is a pencil. I am going to show you how to sharpen it". She knew immediately she was in the right class. She graduated with her still best friend, Redenta Soprano, a botanical illustrator.
After graduating Hope College in Holland, MI with a degree in fine arts and a minor in Ancient Civilization, Daryl toured the country doing outdoor art shows and selling her work through galleries in the Northeast US. She also freelanced as a graphic designer.
She married Corky Benson, a software engineer, in 1982 and moved to New Haven, CT where she maintained a studio loft in the Marlin Building. In 1988 they moved to Candia, NH and started a family.
Today she lives with her husband in New Orleans.
"My favorite artist is British oil painter J.M.W. Turner whose paintings I have traveled the world to see, including numerous trips to England to visit Tate Britain's Turner Collection. The first time I entered a black taxi in London and said "Take me to the Tate, please" was one of the most thrilling moments of my life. Truly moving land and seascapes with luminous skies." — Daryl D. Johnson
Education
BFA, Hope College, 1975
Postgrad., University Cincinnati, 1976
Postgrad., Art Student's League, New York City, 1978
Residence, Vermont Studio Center, Johnson, VT 1988
Awards
Daryl's paintings have won numerous awards are in private and corporate collections worldwide.
New Hampshire Art Association 1st prize 1989 and 1990,
Miriam Sawyer Award 1989, Connor Award 1990
Collections
Aetna Insurance, Hartford, CT
Bank of New Hampshire, NH
Bergstrom Hotel, Germany
Cologne Hotel, Germany
Connecticut Hospice, CT
Delta Airlines, Boston, MA
Fidelity Investments, Merrimack, NH
Fusco Corporation, New Haven, CT
General Electric
Glen Island Casino, NY
Greenwich Hospital, CT
Hale & Dorr, MA
Richard Himmel, Chicago, IL
Hope College, Holland, MI
Northeast Delta Dental, Concord, NH
Marriott Hotels, St. Louis, MO
Marriott Hotels, NYC
Mary Immaculate Hospital, NYC
Monitor Company
PepsiCo, Purchase, NY
Peterborough Savings Banco, Purchase, NY
Registry Hotel, MN
Southern New England Telephone, CT
Toledo Botanical Garden, Toledo, Ohio
University Club, NC
WMUR-TV Channel 9, Manchester, NH
---
Honors
View Daryl D. Johnson Artist's Painting on the Cloud Appreciation Society website

---
Publications
Sunset Wind from Daryl D. Johnson, — CloudAppreciationSociety.com featured post , May 21, 2021
Passing By: Artist paints landscape from a moving perspective, — Hippo, January 10-16, 2019
Great Art is Always Memorable — Mayor's Office Artist of the Month Daryl D. Johnson offers insight, — The Telegraph, April 26, 2018
Daryl D. Johnson – Motorcycles, Movement and Mastery, — The Weirs Times, March 29, 2018
Morning Glory by Daryl D. Johnson, — CloudAppreciationSociety.com featured post , March 27, 2018
The People's Book — The Peoples Poetry NH, 2 paintings and a poem, 2018
The People's Book — The Peoples Poetry NH, 2 paintings and a poem, 2019
Daryl D. Johnson: Solo Show — Art New England
Daryl D. Johnson: Solo Show — Boston Globe
---
Professional Affiliations
---
Links
Terry S. Johnson Poet — My sister's website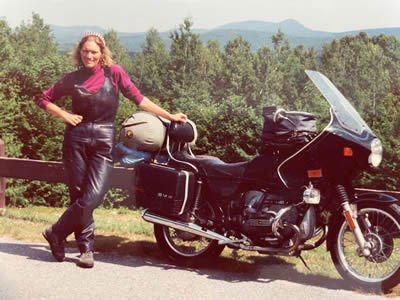 circa 1988 in the White Mountains, NH with motorcycle "Schwarz".