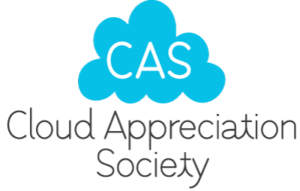 "The Cloud Appreciation Society grew out of a talk on clouds Mr. Pretor-Pinney delivered to a literary festival in 2004. To attract attendees, he invented a whimsical title: the Inaugural Lecture of the Cloud Appreciation Society. To his surprise, several people asked to join. The society was born." — Gautam Naik, Wall Street Journal
I am member 45,193 of the Cloud Appreciation Society.
After watching a TED Talk by Gavin Pretor-Pinney I had to join this group of cloud appreciators. They have members in 120 countries, "all united in the belief that clouds are the most dynamic, evocative and poetic aspect of nature".
TED Talks – Gavin Pretor-Pinney's page
Link to the Cloud Appreciation Society Manifesto
They post my art!
Occasionally I send in a painting of clouds that they feature on their Home page and they add it to "Clouds in Art" page. It is utter joy to share the love of cloudspotting with a worldwide community.
As a member you can sign up for "A Cloud a Day" email. They post "Cloud of the Month" on their Home page and send an "Occasional Newsletter" out. They have published books and cloudspotting guides and cloud ID cards. And calendars!
Members send in poems and essays about clouds.
What a rich resource!
Above "Spectacle" 24 x 48″ Oils on Canvas ©Daryl D. Johnson 2022